Recently, Houston personal injury lawyer, Daniel D. Horowitz, sat down with Jason M. Byrd for a podcast, The Byrd Chronicles – "Where Law Meets Life." This podcast dives into specific areas of the law, how it applies to everyday situations and life in general.
The title of Daniel's podcast episode is "Practicing Law: Leveling The Playing Field with Daniel Horowitz." In this episode, Daniel talks about his journey from being a law clerk to becoming a Houston personal injury lawyer and the trials and rewards of representing Texans who have been injured in accidents.
In addition, Daniel discusses a few good tips and pointers to anyone who has found themselves in an accident, including what you should really know when talking to insurance companies and how to pick an attorney to represent you
Where to Find the Podcast
You can find Daniel's episode on The Byrd Chronicles website. You can also find the episode on iTunes, Google Podcasts, Stitcher, and other podcast outlets.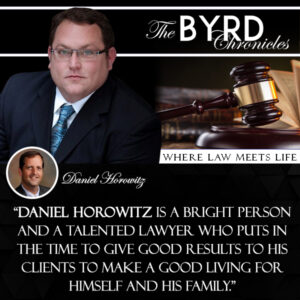 Need to Speak With a Personal Injury Attorney in Houston, Texas?
For more information about our Houston personal injury lawyer, check out his attorney profile, testimonials page and video library. If you have been injured in an accident caused by the negligence of another person or entity, you have legal rights. Call us today at (832) 460-5181 or fill out our online form to discuss your situation in a free initial consultation.