Any time you're involved in an accident with a semi-truck, you should contact your Houston car accident lawyer. Many trucking companies want to avoid paying out a settlement, but an experienced Houston car accident lawyer can help you get the compensation you deserve.
Untreated medical conditions are a common cause of truck accidents. These conditions may have affected the truck driver's judgment or physical capabilities while driving. 
Contact our team for a free consultation if you think the truck driver's medical history may be behind your accident.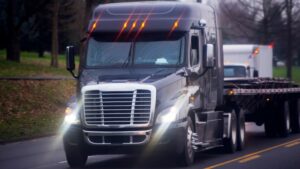 Underlying Medical Issues are a Frequent Cause of Truck Accidents
Statistically, truck drivers seem to have a greater risk for health issues that can make it dangerous to drive. According to the CDC, truck drivers may have a high risk for health issues like obesity, smoking, high blood pressure, diabetes, and sedentary lifestyle. These all have risks that can lead to dangerous driving conditions. For example, high blood pressure could lead to the risk of a heart attack, possibly causing an accident if it happened to the driver while on the road.
Unfortunately, many truck drivers have medical conditions that can make them dangerous behind the wheel. In fact, this is such a common problem that the Federal Motor Carrier Safety Administration (FMCSA) has put laws in place for truckers regarding dangerous medical issues. Every one to two years, truck drivers are required to pass a physical exam to look for medical concerns such as:
Despite these efforts to maintain safety, many trucking companies overlook their drivers' medical issues. When this neglect leads to an accident, it takes an experienced Houston car accident lawyer to find the evidence of negligence so you can hold the trucking company responsible. 
How Your Houston Car Accident Attorney Can Help Your Case Against a Trucking Company
As your truck accident lawyer, our firm is here to go up against trucking companies and their insurance providers to get a fair settlement for your damages and injuries. Our experienced team knows how to source the information needed to help fight for your case.
We Can Help Determine the Cause of the Accident
When you contact your Houston car accident lawyer immediately, this means a quicker response to investigate and gather evidence for your claim. For example, in most car accidents, both parties try to avoid each other at the last second by braking or swerving. However, a driver who was incapacitated may not do these things. Evidence like lack of skid marks on the road, lack of braking or maneuvering data from the 18-wheeler's black box immediately before the crash, and camera footage can all be valuable.
We Can Subpoena Records of Medical Conditions
Medical records from the required physical exams should be kept by the trucking company in their employee files. Your car accident attorney can subpoena the company for the driver's medical records to look for evidence of existing issues that may have led up to the accident. For instance, an untreated sleep disorder could be indicated by records that show the driver has fallen asleep at the wheel. 
We Fight for Fair Compensation from the Trucking Company
Despite the evidence, the trucking company may try to avoid paying you, or to only pay you a small amount. Your Houston car accident lawyer will fight for fair compensation on your behalf. From negotiating out of court with insurance adjusters and truck company representatives to bringing a lawsuit against the at-fault company, we will work in your best interests so you can get the compensation you need to recover. 
Daniel D. Horowitz, III PC – Top Car Accident Lawyer in Houston
If you were injured in a truck accident, contact the Law Office of Daniel D. Horowitz, III PC. Our firm offers decades of experience to help you win your case. When you choose our team for your case, our seasoned legal professionals work endlessly to get you a fair settlement. We have helped our clients recover over $200 million in our years of practice. Get in touch today for a free, confidential case evaluation.