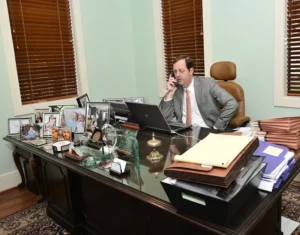 If you were injured because of someone else's negligence, a personal injury lawyer can help you fight for compensation. Injuries of all sorts can happen in accidents, but some of the most devastating are catastrophic injuries. These are often life-altering and can have serious impacts on your day to day activities. These cases can be complex and difficult to fight, which is why you may need an experienced personal injury lawyer on your side.
Schedule a free case evaluation with our firm today.
Why You Need a Personal Injury Lawyer for Catastrophic Injury Cases
Catastrophic injuries are severe, which can complicate your case. These cases often require huge payouts for things like medical expenses, ongoing care, and physical pain and suffering, not to mention lost ability to earn your normal wages and emotional trauma. The value of these cases often make them hard to fight because the negligent parties are often highly resistant to paying out that much money. Also, add in the issue of catastrophic injuries often don't get better before the statute of limitations is up for most personal injury cases (just 2 years in most situations). This can also make the case more complicated, which is why you might need an injury attorney for your case.
What are Catastrophic Injuries?
Of course, it's important to define what catastrophic injuries are. They do differ from most personal injury cases. Catastrophic injuries are injuries that are severe and either long-lasting or permanent. They generally impact your life in major ways, like leaving you unable to work, making it difficult or impossible to take care of your children, or even requiring you to have constant medical care for the rest of your life. For instance, a personal injury is generally something like a broken bone that affects your life significantly in the short term, but generally heals over time. A catastrophic injury is generally something like brain damage that affects your life for years and decades to come.
Some common types of catastrophic injuries include:
Traumatic brain injuries
Spinal cord damages
Severe burns
Loss of hearing
Loss of vision
Amputations
Paralysis
Permanent disfigurement or scarring
These types of injuries often require significant medical care and can affect your quality of life. These types of injuries can happen after any accident, but some of the most common include truck accidents, car accidents, and worksite accidents.
How Your Injury Attorney Fights Your Case
As you recover or acclimate to life with your catastrophic injuries, a lot of the burden of your case falls to others, like your personal injury lawyer. These cases usually involve extensive investigation and documentation of your injuries and the negligence that caused the accident. In some cases, it may even involve arguing in court for your rights to compensation. The legal experience of an attorney can be invaluable for catastrophic injury cases.
Daniel D. Horowitz, III PC – Top Personal Injury Lawyer in Houston
If you were injured in an accident, contact the Law Office of Daniel D. Horowitz, III PC. Our firm offers decades of experience to help you win your case. Whether you need a Houston car accident lawyer or a jobsite injury attorney, we are here for you. We have helped our clients recover over $200 million in our years of practice. Get in touch now to get a free legal consultation for your case.