Car accident lawyers in Houston, TX work on your behalf to get you compensation after a car accident. However, just like any other professional, they're not all created equal. Some attorneys have credentials that put them ahead of the rest of the pack. Board certification is one of the credentials that attorneys can earn to show their commitment to excellence. In this article, we'll discuss what board certified lawyers are and why you should choose one for your car accident case. 
If you need a team to fight for the compensation you deserve after a car accident, get in touch for a free case evaluation with board certified attorney Daniel Horowitz. 
What are Board Certified Car Accident Lawyers in Houston, TX?
Board certification is a type of extra credential that lawyers can get in Texas. These certifications are provided from the Texas Board of Legal Specialization (TBLS). It's a rigorous process to become board certified through the TBLS, which certifies attorneys in dozens of different areas of law, including personal injury trial law, which is the type of law that car accident lawyers in Houston, TX practice.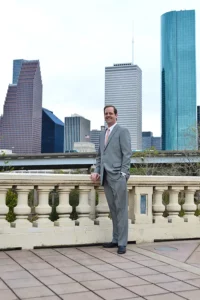 There are many requirements for personal injury attorneys to be board certified. They must meet guidelines for experience and professional references from peers and judges. Additionally, lawyers must complete 60 hours of continuing education approved by the board and also pass a comprehensive day-long exam. Personal injury attorneys must recertify every five years as well. 
Because of the rigorous requirements from board certified lawyers, many do not go through the process. In fact, a small percentage of lawyers achieve board certification. Therefore, if you find a Houston car accident attorney, don't assume that they are board certified, since few are. 
Why Choose a Board Certified Houston Car Accident Attorney?
When looking for car accident lawyers in Houston, TX, consider prioritizing those with board certification for personal injury trial law. There are many reasons to hire a board certified attorney to fight your car accident case. 
Choosing a board certified personal injury lawyer means that you know they've been evaluated on many criteria from the TBLS, which has been around since 1974 and has set standards for certifying attorneys. Board certification also shows that the attorney is dedicated to going above and beyond the minimums set forth by the state bar. Attorneys don't need the continuing education, exams, references, and experience to practice law in the state of Texas, so board certification shows an extra level of dedication to quality legal services. 
As you might know, there are a lot of car accident lawyers in Houston, TX. It can be hard to find the right one for your case. One way to filter through the options to find someone that has expertise in the field is to look for a board certified lawyer. 
Hire the Law Office of Daniel D. Horowitz, III PC as Your Personal Injury Lawyer
If you need an attorney to fight for you after a car accident, choose the Law Office of Daniel D. Horowitz, III PC. Our firm offers quality legal counsel and services for victims of personal injury cases, including car accidents, truck accidents, and work accidents. Mr. Horowitz is a board-certified attorney who fights tirelessly for his clients to get maximum compensation. Get in touch now to discuss your case with our team.